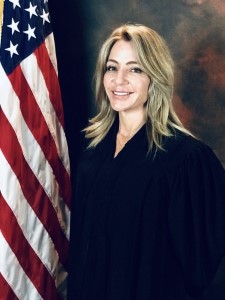 Kristie M. Healis
Circuit Judge
Judicial Assistant: Jay Raghunandan
Office: 352-401-6780
Fax: 352-401-7840
Click here to view the Standing Order on Probate and Guardianship Hearings
**IMPORTANT NOTICE REGARDING SUBMISSION OF PROPOSED ORDERS**
ALL PROPOSED ORDERS shall be submitted for entry by email ONLY to marionprobateandguardianshipordersubmissions@circuit5.org
The case style, including case number, shall be indicated in the subject line.   PLEASE SUBMIT ORDERS IN WORD FORMAT ONLY (NO PDF DOCUMENTS WILL BE ACCEPTED) USING THE CODES LISTED IN THE ATTACHED MEMO
 Any email submission shall copy ALL parties by email.  If one or more of the parties do not have an email, your correspondence shall indicate that a copy has been mailed to those parties.
The attorney submitting the proposed order shall ensure that any pro se party receives a copy of the order via U.S. Mail and shall file a certificate of compliance confirming compliance with this requirement.
Please note that failure to comply with the above procedures will result in a delay of processing your case(s).
 *Click here for sample of forms using codes*
*NOTICE TO THE PUBLIC:* The Code of Judicial Conduct governing behavior by judges forbids the Judges of the Fifth Judicial Circuit to discuss pending cases with the public. Please do not call the Court expecting to speak with a Judge about any case. The Court is only allowed to consider arguments made in the courtroom and in documents properly filed by actual parties in the case as authorized by law and the Rules of Court. The Court cannot ethically read or consider any other opinions or arguments about the case. Communications that do not meet these legal requirements cannot be forwarded to the Judges.