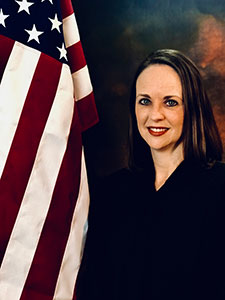 Jennifer Bass
Circuit Judge
Judicial Assistant: Charlotte Harris
Office: 352-401-6763
Fax: 352-401-7840
Procedures During Court Closure:
Per Chief Judge, Daniel B. Merritt, Jr., (see Administrative Order A-2020-12-C) the court closure has been extended to April 17, 2020. For our office, at this time, all hearings will go forth as scheduled beginning March 30, 2020. Hearings for injunction cases, Baker Acts, and Marchman Acts are deemed mission critical and will occur IN PERSON at the Marion County Courthouse.  All other hearings will proceed however, these hearings WILL NOT OCCUR IN-PERSON AND WILL NOT BE CONDUCTED AT THE MARION COUNTY COURTHOUSE. Our Court Administration and Technology Staff have diligently explored ways to conduct hearings via electronic communication through Telephonic or Video Conferencing. Beginning March 30, 2020, hearings for Judge Jennifer Bass will occur using ZOOM remote conferencing.  This platform supports audio and visual hearings.
The parties will receive an Order regarding the details and requirements for attending a ZOOM hearing.  If the parties prefer to reschedule and not use this platform, they should notify this office at charris@circuit5.org.
If a party intends to request the introduction of any documentary evidence during the hearing, the items of evidence shall be scanned as a PDF and emailed to the judicial assistant in advance of the hearing. The proposed evidence shall be provided to the judicial assistant 48 hours in advance of the hearing at charris@circuit5.org.  The parties or counsel of record are encouraged to confer and stipulate to the admissibility of evidence, if possible, and to determine whether documents already filed within the record may be judicially noticed. Any communication to the judicial assistant shall include all parties or counsel.
Our office will be working remotely and monitoring e-mails periodically. We apologize for any inconvenience this may cause.
Thank you for your patience and understanding during this time.
*NOTICE TO THE PUBLIC:* The Code of Judicial Conduct governing behavior by judges forbids the Judges of the Fifth Judicial Circuit to discuss pending cases with the public. Please do not call the Court expecting to speak with a Judge about any case. The Court is only allowed to consider arguments made in the courtroom and in documents properly filed by actual parties in the case as authorized by law and the Rules of Court. The Court cannot ethically read or consider any other opinions or arguments about the case. Communications that do not meet these legal requirements cannot be forwarded to the Judges.